Collecting Guide: Clocks
Specialist Celia Harvey offers five points to consider when buying a clock, from age and condition to the reputation of the manufacturer
1. Pick a style that suits your interior
There are so many different types of clock to consider and so many different styles. You may decide you would like a more traditional clock; longcases can be excellent furnishing pieces, they work well in any sort of interior. A fantastic example is Samuel Marchant's striking longcase clock from the 1700s, or Thomas Bradford's ebonised striking longcase clock, also produced at the beginning of the 18th century. Other examples include Joseph Pomroy's elegant gilt and black Japanned clock.
Earlier clocks also come in smaller sizes — with bracket and mantel clocks being an excellent example. Georgian bracket clocks can be ebonised or made in plain timber, so can be selected to fit with your interior. For those with a smaller budget, a clock such as the walnut quarter chiming table clock by Elliot, would be ideal. This clock is modern, based on a George III design, but reasonably priced at £800–1,200.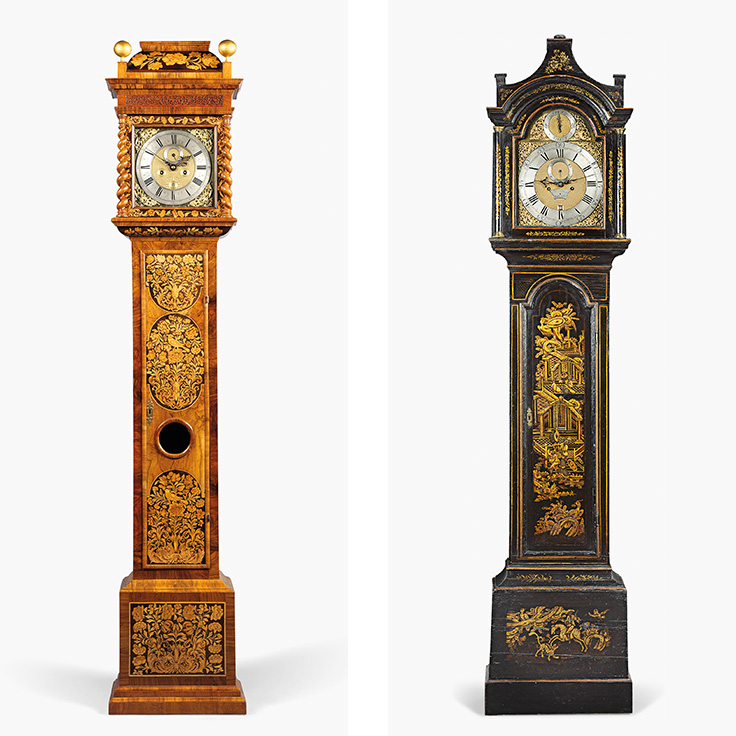 Left: Samuel Marchant. A William and Mary walnut and marquetry striking longcase clock. London, circa 1700. Sold for £5,625 in The Country Home sale at Christie's London on 7 July 2015. Right: Joseph Pomroy. A George II brass-mounted gilt and black Japanned striking longcase clock. London, second quarter 18th century. This clock was offered in The Country Home sale at Christie's London on 7 July 2015.
2. For added opulence, consider a French touch
French mantel clocks tend to incorporate ormolu — a technique which sees finely-ground, high-carat gold applied to bronze. The resulting pieces really stand out in any interior and are great for those who like a bit of 'bling' — a good example would be the Louis XVI ormolu clock by well-known maker, Lepaute. If this is above your price bracket, take a look at a 19th-century version of 18th-century mantel clocks, such as the French ormolu-mounted white marble striking mantel clock (below). Late 19th-century French clocks are a good way of buying the 18th-century opulent style without breaking the bank.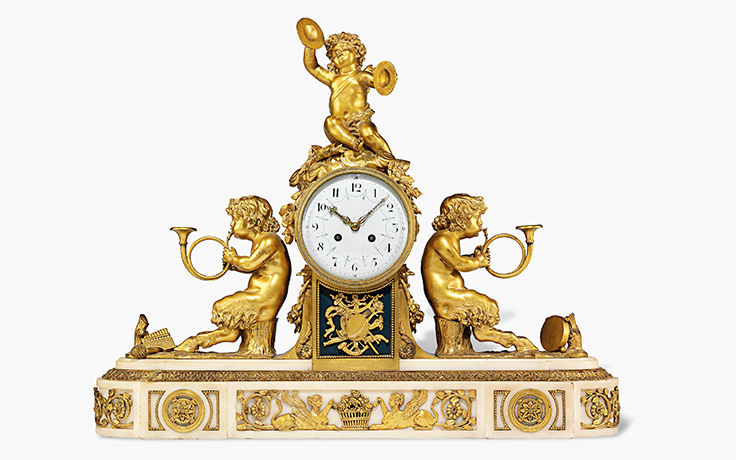 Left: A French ormolu-mounted white marble striking mantel clock. Late 19th century. Sold for £1,750 in our sale, Glebe House, Mont Pellier and Woodbury House: Three Country House Collections on 17 June 2015 at Christie's in London
3. The gift of time
Clocks make brilliant presents, and traditionally, carriage clocks have been considered a good type of clock for this purpose. Those looking for the perfect present might consider a French brass striking carriage clock. Perpetual or year-going clocks also make good gifts because of their eternal and enduring quality. A modern take on this is a Jaeger Le-Coultre Atmos clock which, as its name hints, is powered by changes in air pressure and temperature. These tend to be made in gilt-brass and glass and are well-designed — with the added bonus of coming from a well-recognised luxury brand.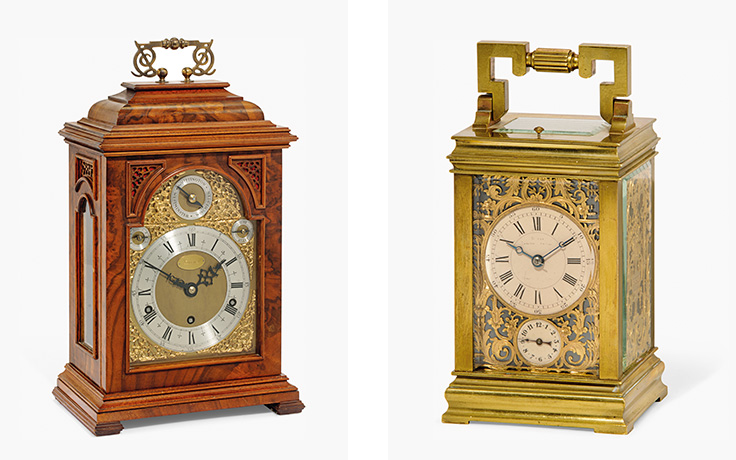 Left: Elliot. A walnut quarter-chiming table clock. London, late 20th century. Sold for £1,625 in our Interiors saleon 30 June at Christie's in London. Right: A French brass striking and repeating carriage clock with alarm. Late 19th century. This clock was offered in our Interiors sale on 30 June 2015 at Christie's in London
4. Meet your maker
Looking for a particular maker? In many cases a named maker adds a premium but at the same time assures quality. In early English clocks a good London maker is always sought after, but you may prefer something relative to your area, a more provincial maker. In French clocks, those made in the capital often mean high quality.
In the 19th century makers such as Marti and Japy Freres mass-produced reliable movements to fit a variety of cases. Bronziers also played an important part in French clocks with cases by makers such as Deniere displaying the high level of craftsmanship that can be desirable. In the modern market, people tend to look to luxury brands such as Cartier, Asprey, Tiffany and Jaeger Le-Coultre.
In this video, Celia Harvey introduces some of the exceptional timepieces she works with
5. A specialist eye
There are many things to consider when buying a clock and our specialists are always on hand to help. A condition report is compiled when a piece is catalogued which can be requested at any time before the sale to provide key insight into the condition of a clock.
When looking at a clock, three essential components should be considered as often three craftsmen have contributed to the creation of these often marvellous time-keepers. One must consider both the exterior case and interior which includes the dial and movement. Generally, when I assess a clock's quality, I look at the following components:
Case: Is anything missing, including the mounts? How are the surfaces? Is there any damage such as cracks or tarnishing? Check if the veneers have been replaced and whether the feet are later than the case.
Dial: Is the dial scratched or rubbed? Has it been restored? This can be particularly important as people may cover an existing maker and sign with a new one or add one where one was previously lacking. Damage to winding holes is common on enamel dials and this is often where restoration occurs.
Movement: Is it clean and tidy? Is there an excess of oil? Is everything there? Parts I look out for include the key, bell and pendulum.
Following on from this you need to look out for alterations or adaptations to the movement. Clocks are built to work accurately every single day so they are put under a lot of pressure physically. It is therefore likely that some elements of the movement will have been fixed or replaced over time.
Now it's time to look for signs which may indicate the case and movement don't belong together. Are there any vacant holes in the case or on the back plate of the movement? Has anything been cut down or built up? Is the maker on the dial of a different period to the style of the case?
Main image at top: A Louis XVI ormolu striking mantel clock (detail). Lepaute, late 18th century. Sold for £3,500in our sale, Glebe House, Mont Pellier and Woodbury House: Three Country House Collections on 17 June 2015 at Christie's in London